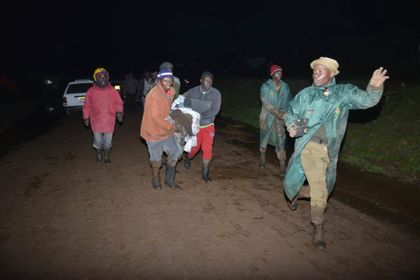 Water swept away numerous homes and businesses after breaking through the Patel Dam in Solai, about 150 kilometers northwest of Nairobi.
The floods have also destroyed road networks in some parts of the East African country and in some cases the military has stepped in to airlift residents from submerged houses. "It is a double tragedy and these communities have been rendered more vulnerable because of the cyclical disasters and their coping mechanisms has been totally depleted", Gullet added.
"41 survivors were taken to the hospital, 35 of them were discharged while six are still in the hospital", Red Cross Secretary General Abbas Gulet said in a statement.
Forty people have been reported missing, Regional Commissioner Mwongo Chimwanga said, while about 40 others were rescued from the mud and taken to local hospitals.
We have set up a center near the scene for families to report missing members to enable us to reunite them.
Our Correspondent in Nakuru recounted seeing bodies of people-including young children hanging on cliffs or branches of trees that were felled by the floods from the dam owned by an Asian farmer who settled in Solai in 1960's and grows coffee, Macadamia and flowers for export.
The Kenya Meteorological Department says much of the region will see no respite from the rain.
Square Enix Set For E3 2018 Announcements
And the team at People Can Fly have a AAA game set to be published by Square Enix that we know nothing about at this point. Also in the world of RPGs, we've got Final Fantasy VII Remake, which has also been in development for an eternity.
Residents from the nearby Marigu, Ruiru and Akuisi farms were also forced to flee to safety.
Several villages were affected around Nakuru, and already Solai Boys' School has indefinitely been closed by the government.
Heavy rainfall and floods have hit East Africa in recent months with Kenya and Rwanda among the worst hit.
To date, heavy rains have caused havoc in Kenya, killing 158 people and displacing 299,859, according to the government and Kenya Red Cross.
Then came massive waves of water, which crashed through farmland, swept away hundreds of houses and killed at least 32 people.
Its walls are said to have caved in due to the high volumes of water following heavy rains that have been pounding the country.
The Red Cross appealed last week for Sh500 million to help those affected.